---
EMPOWERED FOR IMPACT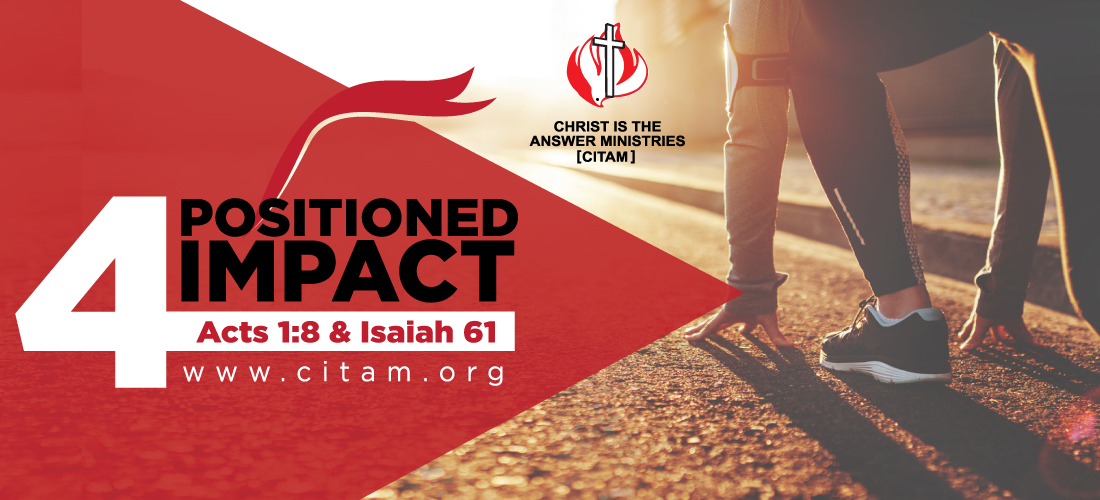 In my former book, Theophilus, I wrote about all that Jesus began to do and to teach . until the day he was taken up to heaven, after giving instructions through the Holy Spirit to the apostles he had chosen. After his suffering, he presented himself to them and gave many convincing proofs that he was alive. He appeared to them over a period of forty days and spoke about the kingdom of God.  On one occasion, while he was eating with them, he gave them this command: "Do not leave Jerusalem, but wait for the gift my Father promised, which you have heard me speak about.  For John baptized with water, but in a few days you will be baptized with the Holy Spirit."
 Then they gathered around him and asked him, "Lord, are you at this time going to restore the kingdom to Israel?"
He said to them: "It is not for you to know the times or dates the Father has set by his own authority.  But you will receive power when the Holy Spirit comes on you; and you will be my witnesses in Jerusalem, and in all Judea and Samaria, and to the ends of the earth."
 After he said this, he was taken up before their very eyes, and a cloud hid him from their sight.
 They were looking intently up into the sky as he was going, when suddenly two men dressed in white stood beside them.  "Men of Galilee," they said, "why do you stand here looking into the sky? This same Jesus, who has been taken from you into heaven, will come back in the same way you have seen him go into Heaven.
Acts 1:1-11 -biblegateway.com/passage
This is our theme of the year. When God gives us a theme, it's not just a mantra for us to pronounce and feel good. His intention is to have us make a difference in our world and beyond. It's his intention to empower us to be in a position to impact our families, marketplaces, neighborhoods and the world at large.
Even as we seek to be positioned, how then are we empowered for impact? Acts is a book of action. We are introduced to the disciples turning the world upside down. It's a book where ordinary fishermen who had no influence, great education, or noble heritage make impact in their known world even unto the uttermost part of the world.
And so, it is for us, whom God has given this theme regardless of our social, family and educational background to walk in his footsteps, be of influence and leave a legacy as a people who walked in the fear and admonition of the God.
Acts was written by Luke to Theophilus (meaning beloved of God) referring him to his earlier writings, some say as a last defense for Paul who had been imprisoned. Others theorized that Luke wanted to explain to Theophilus how the power in the name of Jesus worked and so on.
Theories aside, to us, this book items as a guide on how as a church we need to do to have impact in this world. In reference to his previous writing in Luke, about the life, commands, death and resurrection of Jesus, he admonishes us to walk in the same way he did for this to happen. He described Jesus as the messiah, who had come to bring salvation to a lost world. He wrote about the things Jesus began to do and teach and when followed, we would be able to make impact to the world at large.
In other words, we can never have impact if we are not connected to the things God began to do and teach through the life of Jesus. For Luke discusses the power that caused mere fishermen with no influential and noble background changing the world. Where kings and their counsels sat down to discuss the things they were teaching after these simple men met Jesus.
In essence, he points to us that to be positioned for impact, we must continue to walk in the footsteps of Jesus both in works and deeds. He pursues to explain to us that the power behind these modest men that were turning the world upside down was resident in practicing the simple teachings and walking in the way Jesus walked.
He explains to us that to be able to have impact, we must plug ourselves into this power that transforms the ordinary into the extra ordinary.
Two principles that make all these things possible and make us impact the world in our generation;
The disciples were keen to continue in the things Jesus begun to do and teach;
Impact stems from doing what Jesus began to teach and do. The disciple walked and taught what Jesus Christ commanded them to do. They proclaimed the good news to the poor, in the name of Jesus, they healed the sick, they set the captives free and proclaimed the year of the lord's favor.
Jesus went around doing good and setting people free and so did his disciples after him. They understood the mission of God through Jesus Christ and they confounded the wise men and women of their generation. They followed his simple teachings of love, compassion and service for humanity and the legacy they left spread to the whole world.
God's mission through Christ brought in a new era of setting captives free, proclaiming the good news of salvation to the poor, recovery of sight to the blind and setting the oppressed free by proclaiming the year of God's favor.
If then we plug ourselves to the mission of God, we will be unstoppable and have impact in our generation. We must then actively speak the good news to the poor, set free those in prisons, proclaim healing to a sick world, speak the simple word of god to set the oppressed free. Then ad only then will we be unstoppable.
God is not in any other business except the mission he sent Christ. We must stop focusing on our education and special talent and plug into that assignment and for sure success shall be inevitable.
The big question to us then is this? How much are we plugged in the mission of God?
We are supposed to be the visible presence of Christ on earth until he returns, for if we cease to be the hand of God in our generation his power diminishes. God is asking us to have a take-over mentality and continue in the things he taught and did such as seeking first the kingdom of God, love and compassion.
It's in doing this that what we individually require shall be added unto us. If you are seeking God to change your spouse, find other husbands and wives and change them then God will change your own. Someone once said that if you mind God's business, he will mind yours. The things you seek, go out of your way to meet other people's needs the you'll see God move in your life.
Christ proclaimed the word of God and held on to it as his mission. In many instances, he quoted the scriptures and lived by them. He taught and lived by what he taught. His words rebukes, corrects and guides and because of his example, the disciples followed suit.
When he told them not to leave Jerusalem until they receive the power of the holy spirit, they did not debate. They simply trusted and obeyed. And a match was struck in that time that ignited the whole world.
They were filled and anointed by the Holy spirit;
Jesus was anointed by the Holy spirit of God. Anointing is a mark of separation. When the anointing of the Holy spirit falls on you, and you are able to bring forth the power and authority of Jesus Christ.
If we are to continue in the work that Jesus started, we must seek to be empowered by the holy spirit. Without the anointing, the act of bringing sight to the blind is impossible. Proclaiming the good news and setting the captives free is impossible. Teaching without the holy spirit is just but a lecture.
Instead of debating if being spirit filled is speaking in tongues, shut up and seek the anointing. When it falls on you, you will know. It's not just for the select few but it is for all who desire to be empowered. Real impact comes when the supernatural is resident in us. In the story of peter, many church leaders went about their 'normal religious routine' giving alms to the cripple who always laid at the gate of the temple called beautiful.
They had no impact. But when peter came to the temple gate and the man called to him for a handout, peter said to him holding him by the hand, "silver and gold have I not, but in the power of Jesus Christ rise and walk." A man who had been paralyzed from birth and was laid daily at the temple gate stood up, walked and praised the Lord! –Acts 3:2 
That is what the holy spirit empowers us to do if we seek him. If then we are to have impact in this generation, we must then plug into the mission of God. Seek the power of the holy spirit and then can we leave a lasting legacy that will impact our generation.
-Rev.Michael Wambua.  Senior Pastor CITAM Meru
Recommended Posts
January 25, 2018
January 17, 2018
January 11, 2018