---
POSITIONED FOR IMPACT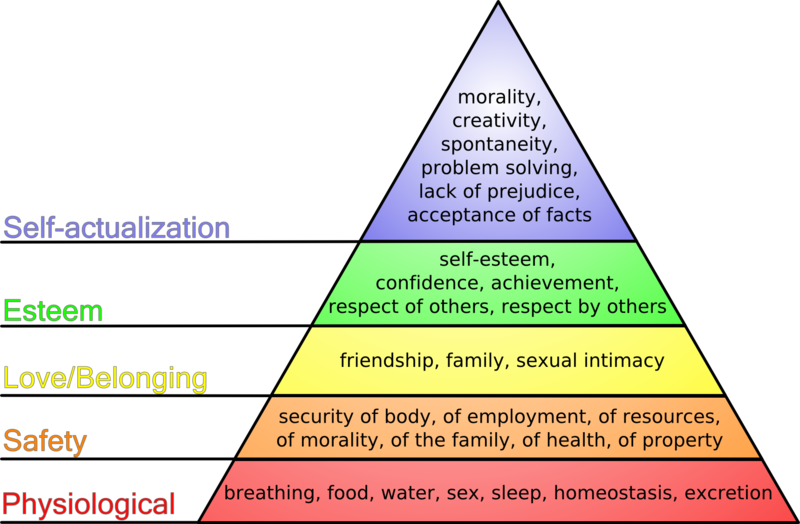 If you were to be asked, what's the single most important need of the human being? What would be your answer? Years ago, one of the greatest psychologist by the name Abraham Maslow set out to answer this question. He came up with Maslow's hierarchy of needs.
in the featured image, Maslow proposed the order in which humans seek to fulfill their needs. As you can see, Maslow found out that at the bottom of the hierarchy are the physiological needs many of us run after. Lately these hierarchy of needs have been revised to six. The very top need being spiritual or as he calls it the connection with the higher other.
But using the above diagram, self-actualization is the greatest of all human needs. Self-actualization is an individual's desire to accomplish everything that they can and to be the most that they can be. It's to get to the point where you have achieved your full potential and made a difference to your environment. It is geared towards other people than to self, for the person involved has reached the highest they can be and is at ease to help others.
In other words, it is a desire to make an impact in the lives of other people to use our theme language. It is that inborn need that can be observed in the youngest baby. The happiest moment of a baby is not when the baby has been fed to the fullest, it's when the baby drags daddy's shoes to where he is and to puts it on his feet. It's when the baby carries her mum's purse, struggles with it and places it her lap and gets a thank you. When these things are accomplished, the baby gets so excited because it has achieved a feat outside of itself. It is when the baby has contributed to daddy and mummy's life and achieved self-actualization that he or she is happiest.
This means at whatever level one is, we do not need to accomplish great things to achieve self-actualization. God created us as human beings to contribute to the world where we are. that's why you and I can never have satisfaction we crave for driving the latest top of the range car, living in the biggest mansion in the best side of town or having the best meals. Fulfillment comes in doing something great for someone else. While these things will give us momentary joy, it will in the long run not give you and I lasting fulfillment.
True joy and fulfilment comes from us having significant impact in our spheres of influence.
How then can we become men and women of high impact?
A boy born in regular family, with normal ups and downs rose up against all odds to become one of the most-high impact global leaders of his time. This young man was called Joseph the son of Jacob. The story of Joseph has been recorded in the books written by Moses in the bible and many movies have been adapted depicting his life.
Was he any special than us today? I believe from his story that the answer is no. How then did he have such great impact? And how can we follow in step? From his story, we learn that high impact persons are ordinary folk. There's so much from Joseph's life that is ordinary, perhaps even less privileged than most of us.
Joseph came from a polygamous home which had many challenges. He was born as the eleventh son of his father Jacob and the first child of his mother Rachael. Some of his step mothers were house helps, the kind of family you can easily find in Africa. He had ten step brothers and several step sisters. Not a very ideal home where you can say a great man is going to come from.
Joseph's mother had been childless for most of her marital life. This brought her in distress with her sister and co-wife Leah. Leah taunted and mocked her sister Rachel because of her childlessness. Joseph was an answered prayer, his name in Hebrew meaning 'add me another.'
Joseph's family was not the ideal family. It was not a nuclear family but a complex one. With the usual challenges that come with polygamous family. When we project Joseph's background into the future and see where Joseph finds himself, the reality that stares at us is that high impact people are very ordinary.
God can turn ordinary people to be high impact people in the world. One doesn't need to come from royalty to be of influence. Africa looks like the Rachael of this world and the Leah's of this world are taunting us and mocking us for when it comes to leadership, the only thing we seem to produce are despots who plunder their own countries, the womb of Africa seems only to produce tyrants who see leadership as opportunities for personal gain. As Africans, we are in desperate need of servant leaders who can turn things around and shift the paradigm of leadership around.
As you and I look at ourselves, we might probably think that we do not have enough influence and education. We think we are ordinary and useless, perhaps even worse than Joseph. But the news just in is, in your own sphere of influence, you can be the Joseph the world has been waiting for. You could be the miracle baby, the one who brings joy and hope to those around you. You could be the person people have been praying and waiting for to make a difference in their space.
Peter was an ordinary fisherman who turned into a powerful world changer when he met Jesus. Wherever peter and his fellow disciples went they had high impact and caused a stir because Jesus through the power of the holy spirit transformed them.
Jesus himself was an ordinary person, born of an ordinary girl who looked down on himself. Born in a manger, raised in a carpenter's shop, rode on a donkey and not a chariot drawn by a horse, died on a cross and was buried in a borrowed tomb. God raised him from the dead and gave him a name that is above every other name-that with the mention of the name Jesus, every knee should bow and every tongue confess that Jesus Christ is Lord.
God can take you just as ordinary as you are and transform you into a wonderful masterpiece by filling you with the holy spirit and transform you into a powerful force, positioning you for the greatest impact than you can ever imagine. He is available for us today regardless of your education and ordinary background. Think of the little things you can do that can make a difference into the lives of those around you and go do it. You do not need to have special skills. Joseph and Jesus' disciples were ordinary people but they are recorded as having impacted their generation. You can do the same in the spaces and situations you find yourself if you seek God.
-Bishop David Oginde
Image credit: Maslow's hierarchy of needs
Recent Posts
February 06, 2018
January 25, 2018
January 17, 2018